Post by Waverley on Apr 17, 2007 22:53:43 GMT 1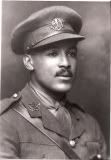 Walter Daniel John Tull. An Officer , a Gentleman and a Glasgow Ranger.
For a Bethnal Green orphanage boy, Walter Tull had many firsts in his life. He was the first black outfield professional footballer in Britain, he was in action from day one during the first battle of the Somme, during World War One and he was the first British-born black officer in the Army. But with the end of the war in sight, he was to be killed by German machine gun fire. Tull's body was never found, and his story was lost for decades.
That wrong was belatedly put right (in part at least) when one of his former clubs, Northampton Town, raised a memorial to the gifted striker. For a man who died at just 29, Walter Tull had packed an enormous amount into his short life. Tull was born in 1888, the grandson of a slave from Barbados. Tull's father, a carpenter, journeyed to England in 1876 and married a Folkstone girl. Mixed marriages were extraordinarily rare in those days, and the family must have suffered enormous prejudice. With six children, both parents suffering ill health and little work or money, life was a continual struggle for the Tulls. When Walter was seven his mother died. His father remarried but also died two years later. The Tulls' stepmother was unable to cope with all six kids, and Walter and brother Edward were sent to an orphanage in Bethnal Green. The regime in the Methodist-run institution was strict but it obviously put the boys in good stead - both went on to be remarkable achievers.
Edward was adopted by a Scots family and eventually became a dentist in Glasgow. Walter, after a brief spell as a printer's apprentice, followed his first love, football. The boy had excelled in the orphanage team, and joined Clapton FC, who excelled in the amateur ranks in the early years of the last century, five times winning the FA Amateur Cup. But before long, Walter had been snapped up by Spurs. At the age of 20, he made his first-team debut, the second black man to play professional soccer in Britain (the first being goali Arthur Walton for Preston North End). Walter thus become the first black outfield professional player.
The skilful inside forward wowed the crowds and the Daily Chronicle reported that he was 'a class above many of his team mates'. Casual racism was the norm of course, with match reports referring to Walter as a 'darkie'. But things got a lot worse in a game at Bristol City in 1909. The Football Star reported racist language 'lower than Billingsgate'. Another paper reported 'a cowardly attack on him' by a section of the away support. The furious reporter hit back: 'Let me tell those Bristol hooligans that Tull is so clean in his mind and method as to be a model for all white men who play football.' Again, Walter had been the best player on the field, but the incident seemed to scar both player and club. After just seven games for the Lillywhites, the player was dropped and then shifted out to Northampton Town the next season for 'a heavy transfer fee'.
Walter seemed rejuvenated by the move and went on to play 110 games for the Cobblers, mainly dropping back to wing half. In 1914, he caught the attention of Rangers. He signed forms and would have been the Glasgow giants first black player (a distinction that went to Egypt's Mohammed Latif in the 1930s. It was to be 1987 before the second black player signed for the Ibrox club, England's Mark Walters). But Walter never pulled on the blue jersey. War broke out and he enlisted in the 17th (1st Football) Battalion of the Middlesex Regiment, as did many other professional players.
By 1916 he was a sergeant and fought in the first battle of the Somme. Suffering from trench fever, Walter was brought back to England to recuperate. His superiors heard constant reports of the man's courage, popularity and leadership skills and they took a remarkable decision - to recommend Walter for a commission, ignoring the Army regulations that forbade 'any negro or person of colour' holding officer rank. Even more remarkably, the Army waived its rule. The attritional effects of war on the officer corps could have been one explantion (by this late stage in this bloodiest of conflicts the Army was simply running out of officers). Or perhaps the Army simply suffered an outburst of commonsense - Walter was commissioned lieutenant in May 1917.
Sent to the Italian front, this first British-born black officer in the British Army led his men at the Battle of Piave, and was commended for his 'gallantry and coolness'. But the life expectancy in the trenches was short and, during the second battle of the Somme, on 25 March 1918, he was felled by machine gun fire. His men gallantly tried to reach him but could not. His body was never found. Tull's commanding officer wrote to brother Edward in Glasgow, reporting that 'He was popular throughout the battalion. He was brave and conscientious. The battalion and company have lost a faithful office, and I have lost a friend.'
Tull's memory rapidly faded into history, with no plaque or memorial to mark his groundbreaking life and career. But finally, in 1999, he was remembered, with a memorial at Northampton Town's Sixsmith Stadium, saying 'WDJ Tull ridiculed the barriers of ignorance that tried to deny people of colour equality ... his life stands testament to a determination to confront those people.' Seventy years after Walter's death, when Mark Walters made his Rangers debut against Celtic at Celtic Park, the player was met by a hail of monkey chants and bananas hurled onto the pitch by the home crowd. We can only imagine the reaction a black player would have received in Glasgow in 1914. The strength of character fused in that Bethnal Green orphanage was a remarkable thing.