Post by rhfronnie on Aug 16, 2011 13:01:13 GMT 1
As this thread is for the 'Forces' ,I decided to post a report I put together of the veterans of my former Regiment (RHF) visit to Holyrood Park on 2nd July 2011, on the occasion of the presentation of new colours by HM Queen Elizabeth 11 to the battalions who now make up the Royal Regiment of Scotland. It was both a sad and a joyous occasion as we veterans of the 'Old' Scottish Regiments "Marched' our Old Colours off parade for the very last time. I will add some photos at the end.
Here is my report (some parts written to add a bit of humour, MY prerogative)
2nd July 2011 (A day of 'condolence' or 'celebration?)
Putting together this report on the "Big Day" I am at odds (with myself) on which way to approach it. Should I (along with the many hundreds of veterans in attendance) express our 'condolences' and tell you that the only thing missing for us, was a Piper playing the lament "Flo'ers o' the Forest", and a Bugler sounding the "Last Post" and "Long Reveille" as OUR beloved Colours exited the parade ground, before our watery eyes, for the very last time?, or should I concentrate on the 'celebration', as the present (and very brave)young crop of lads and lassies proudly stand to receive the NEW Colours which they can rightly call their OWN?
Well, as I obviously fall into the category of the former, I can also feel the joy of the latter, so will compile my report accordingly, and as the young servicemen and women go forth to create and write their own history, they go with the full support and backing of the veterans, wherever they are called upon to serve. (Just as their famous antecedent Regiments did in years gone by).
A new day dawns
As the new day dawned, 2nd of July 2011, the RHF veterans (selected by ballot) and their partners assembled at our 'HOME' headquarters in Sauchiehall street Glasgow and prepared for a journey into the unknown. We were not heading off to "Do Battle" with an enemy who threatens all we hold dear, no, that 'Battle' had already been fought, and concluded, many years before, and we were only 'interested' observers, having only contributed our opinions and not actions in the 'fray'. Take note all you 'Power brokers' out there in Government (and indeed) the Military, the Regimental cap badge that I wore throughout my 22 + years service ((many years BEFORE (and after)) the adoption of the "Bursting Bomb" or "Flaming Grenade" as the regimental cap badge, says quite clearly "Nemo NOS Impune Lacesset", and the 'NOS' does not just apply to the bands, but us ALL.
Personal opinions aside, we were all in good spirits as we greeted old comrades not seen for ages, and the wives caught up with long lost friends and discussed the main issues of the day, ie dresses, shoes, handbags, the price of mince etc etc Then, just a couple of minutes after our stated time of departure, we headed East towards the land known to all 'Weegies' as Soddom and Gomorrah (or Embra) to give it it's proper Kelvinside Academy name. Everyone was in good spirits ((especially PJ and the "Temperance (aye right !)) seven" at the back o' the bus) as they partook of some quaint 'medication' to calm their obviously frayed nerves. They had the good sense to decant the 'Snake' oil into a Jack Daniels bottle before boarding so as to appear 'normal'. The medication obviously worked as they were soon laughing their heids aff and any fear of the unknown they had earlier soon disappeared as quickly as the medication.
The weather favoured us all the way through, and indeed got brighter the closer we got to 'Lot's Land' in the East, and not a pillar of salt to be seen anywhere. The city must have cleaned up its act a bit since our time at Redford,(post Singapore '73) but the 'Blue Plaque' slums normally associated with Embra were still in evidence.
Holyrood Park.
As we de-bussed at our destination we bade tearful farewells to those lucky bassas who had been allocated a seat and we aged and infirm veteran 'marchers' as we were called, made our way to our FUP (form up point) or 'tradesmans' entrance, that some Royal Engineers using 'Det cord' had created well in advance of our arrival in the junglesque environment of Holyrood forest. Well away from Her majesty's inquisitive eyes. We would have had a better view from up on Arthur's seat, but the MOD in their wisdom had sent their only two FFS (Fit for service, but the abbreviation COULD stand for something else) Chinooks to help out the boys in Afghan, so we were like the 'other' Chinooks, well and truly 'grounded' (and seatless) at our FUP.
To be fair, we did have a view of proceedings, but as we did not have the benefit of a 'Top Canopy' in our Engineer created LZ, we suffered in silence under a blazing sun, slowly turning into 'Lobsters'. Did anyone think of brining sunscreen for the 'hawf baked' elderly vets? Naw!. Not only were we toasted and roasted, we were noo dying of thirst as well, and the nearest watering hole was at Holyrood Palace, so, rather than make a big dent in Her Majesty's water bill, a 'raiding party' was formed from amongst the Lowland vets, who bravely broke cover and headed for a large tented affair in no-man's land and returned with some welcome water bottles with which we quenched our thirst. The Highland contingent took no part in this daring raid as they were having some sort of Ceilidh or Fiddlers rally further along our front line.
Soon it was time, and we were called into action, to receive OUR Colours as they were brought back off the field and into the care of the veterans who welcomed them home like long lost sons. The main (?) event continued on the parade ground (this part we could not see) as the NEW Colours were consecrated and presented by her Majesty to the battalions that now make up the Royal Regiment of Scotland (less the battalion on 'active' service in Afghanistan), our thoughts are with you at this time lads and lasses and we pray you all return safely home. We hope that the new battalions carry THEIR new Colours with as much pride as their forebears did.
The battle's o'er
The day was nearing its conclusion as our respective Colour parties took up their position at the head of the veterans, Royal Scots, Royal Highland Fusiliers, Kings own Scottish Borderers, Black Watch, Gordon Highlanders, Queens Own Highlanders and Argyll and Sutherland Highlanders, veterans of all ages who had served so proudly with their Regiment of choice. Every Regiment, Highland or Lowland, famous in their own right with a combined history between them, that struck fear in the very hearts of enemies of our fair Island Nation, should they deem to cross us. Our English, Welsh and Northern Ireland comrades in arms all share what we are going through and face their own trials and tribulations during this time of change, but today is OUR day, both veterans and young soldiers alike. Their time will come and our thoughts will be with them when it does
On the parade ground before her majesty, stood the proud regulars, now with their NEW Colours, backs straight, chests puffed out and now feeling like giants among their peers (and so they should), as they had done throughout a long and arduous afternoon in the blazing sunshine. They remained in position, not because they had forgotten how to march, but because, for them, they had another duty to perform before they could complete their duties. No, they remained in place to salute and pay THEIR respects to US, the veterans, and OUR Colours as we were about to come before them and Her Majesty for the very last time. We were ready. We were ALWAYS ready. Aches and pains that frustrate many of us are forgotten, if only for a few precious minutes of our lifetime. The bands strike up our respective (and often shared) Regimental marches, and we few, we privileged few, stride forth in column of route with our Colours before us onto the parade ground, a duty we had performed many times before in our younger years. As we arrived in front of each battalion, they "Presented Arms" as we passed as a sign of respect, and it was heart warming to hear the cheers from the stands as each of the old Regiments passed by, each of us giving an "eyes right" to our Queen as she stood smiling on the Royal Podium, acknowledging our passing with a slight nod of her head. I'm sure I could see the glint of a tiny Royal teardrop as we passed, but only those of us who were there will ever know and the writers of history books will have to guess.
With one last 'left wheel' we headed for the exit and back to our (by now lonely LZ in the woods) where we halted and turned into line to await the arrival of the 'young guns' as they followed us off the parade ground and passed before US so we could pay OUR respects to them all, resplendent and proud with their NEW Colours. We remained in position as the last duties were performed. The old and new Colours were "Marched Off" parade, the New Colours to the safe repository of their respective Officers' Messes and the Old Colours to be "Laid up" in places yet to be decided upon.
I have my own opinion of where that should be, and it is only MY opinion, and it is not in some Gothic Cathedral or church where they will only be seen by those who attend these places of worship. No, do not hide them away only to gather dust like so many before them, but gather them ALL together, in ONE place, accessible to everyone, (especially the children of tomorrow) where they can learn what they meant to the men and the Regiments who served them. We are proud of our history and traditions, so should our children, whether their ancestors served or not. As I said, it is only MY opinion and others may have better ideas.
Come to the cookhouse door boys
The "Ceremonial" duties having been completed, it was time for everyone to relax and mingle with families and friends across the Regimental divide. Soldiers of all ranks who had attended the same training establishments as instructors or training courses, renewed old friendships, or those of us like myself and the other former RHF Pipe band members who were there, found old acquaintances from the other Regiments Pipes and Drums to swap tales and sadly to learn about the passing of old friends who once graced the esplanade with us at the Castle (There is only ONE Castle known to musicians worldwide and it is NOT Windsor) or Horse Guards, or the many lesser tattoos or major parades we took part in across the globe. Did I say RELAX? Well relaxing was NOT on the after parade agenda, especially in the previously 'raided' water tent which had now "Morphed" into some kind of "Mister Singh's" Indian curry joint-cum-beer tent judging by the size of the many queues in evidence, but with time (lots of time) the queues went down,(as did the welcome beers, wines and spirits), waistlines grew in proportion to the portions and the bar profits would have been higher than a trapeze artist if this were a circus tent. Everyone mingled and enjoyed the occasion. Generals laughed and joked with the Jocks, the regular and now 'rifle-less' soldiers swapped tales with the now 'bow-less' Archers, and the woman folk were still going on aboot the price o' mince. Some things will never change.
Homeward bound
As the sun set on the fabulous setting that was Holyrood Park, we said our goodbyes to old (and new) friends, and made our weary way to our buses and the journey Westward (as many of our ancestors did in America in the 15th and 16th centuries). Gypsies we are not, but travellers we most certainly are. Our ancestors have been to the farthest reaches of our wee planet in the service of our country, many have made the journey 'one way' such is the nature of our job, but still we go. Countries large and small around the globe would love to have soldiers like us, but they don't, and they never will. Yes they may be better paid and equipped, but they don't have the MAN (or woman). THAT is what makes us different; we ARE a breed apart.
In conclusion, was the 2nd day of July 2011 a day for 'condolences' or 'celebration'? Well, to be honest, it was both. There was plenty to be sad about for the veterans, but by the same token there was everything to celebrate for the young servicemen and women. We were there for each other, to share the sadness and joy felt by each. We felt their joy and they felt our sadness. That is the way we have always been. Cut one of us and we ALL bleed. (not that I advocate a return to the razor gangs, but you know what I mean).
Are our Old Regiments dead? NO,NO,NO. They are only "resting" until the day comes when the duty Buglers once more sound 'Fall in'.
A brilliant (though tiring) day was had by everyone who had the privilege to be there. Now safely back home, Regimental blazers, glengarry's, trews and medals put away until the next parade, the wife changed out of her glad-rags and donned her normal 'peeny' to attend to some kitchen duties as I stretched out my weary bones on the couch.
"What are we having for dinner tomorrow dear?" I enquired innocently.
"Mince" she replied, just before she ducked to avoid my shoe as it headed in the direction of the kitchen.
Ronnie ("Oh we held a grand procession as we marched before the Queen")
Selection of pictures from our day.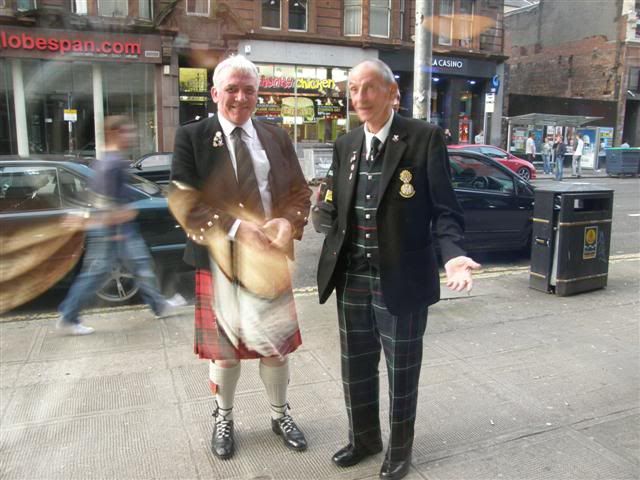 blueron on right with one of his old pipers waiting for the bus outside our HQ.
RHF veterans with wives/partners head 'East' for the big day. Blueron (facing left) at the front.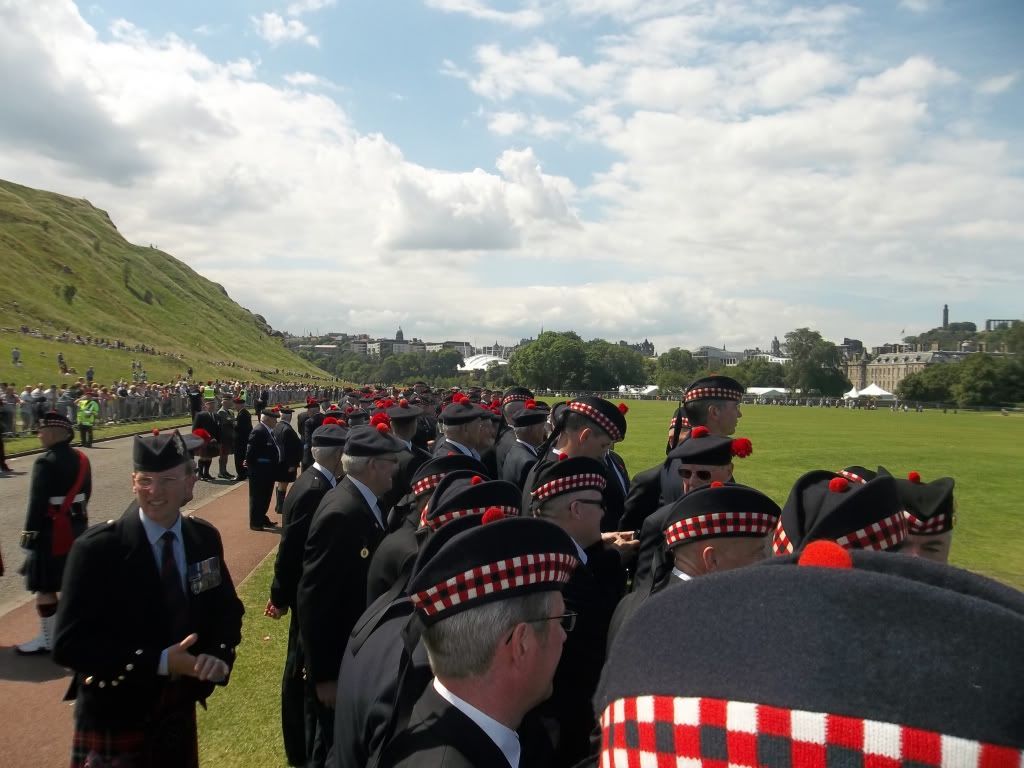 'Marching' veterans from RHF and Black Watch await their OLD Colours coming off the field.
RHF veterans prepare to parade their OLD Colours past the new battalions and her majesty for the very last time.
Colour party from 2 Scots (RHF) carry OUR old Colours and prepare to "Parade" them with the RHF veterans for the last time. Veterans on the left of picture are Royal Scots, those on the right are RHF. Then came the KOSB and then the four Highland Regiments. The fourth Lowland Regiment (Cameronians, Scottish Rifles) disbanded in May 1968 and were not on this parade. Sad,sad day for us all.
Veterans from all the regiments mix in the refreshment tent after the day's duties were done.
A Fantastic day for everyone concerned. Sad and joyful and NEVER to be repeated on such a scale again. I wrote a poem/song two days after the event which, I think, captures what we all felt.
The Colours we so proudly served
The veterans wept with sadness while the soldiers cried with joy,
But we all stood together and this game was not some toy,
We all had signed the dotted line, our country so to serve,
This final act called progress, no, it's not what we deserve.
The sun shone down on those below this second day of July,
Those brave young soldiers on the field, the veterans standing by,
Our colours old were then marched off and trusted to our care,
And new ones fluttered proudly in the hands of those who dare.
Chorus
We can't look back in anger for that's not the thing we do,
As the 'young guns' venture forward we'll be there to support you,
remember us and those before and battles fought and won,
Our history may be over lads, but yours has just begun.
The misinformed don't understand what our Colours mean to us,
A rally point in battles fought, midst smoke and fire and dust,
To us they're not some common flag that people wave with glee,
They are a part of something more, our Regimental family.
The soldiers on the field remained, they're duty was not done,
They stood their ground like the veterans, one day they would become,
The veterans marched off in step to join the field that day,
Their Colours flying high of course and the bands began to play.
Chorus
We can't look back in anger for that's not the thing we do,
As the 'young guns' venture forward we'll be there to support you,
remember us and those before and battles fought and won,
Our history may be over lads, but yours has just begun.
Scotland the Brave, the Old Black bear and tunes like Caber Feidh,
Blue Bonnets ower the Border helped old veterans on their way,
As we marched proudly round that field, battalions "Present Arms",
An "Eyes Right" to Her Majesty, she still has all her charms.
Our duty done we left that field, eight hundred tear filled eyes,
And who could blame those veterans? That saw their history die,
The 'Highlander' and 'Lowlander' we shared a common pain,
And seven famous Regiments we'll never see again.
Chorus
We can't look back in anger for that's not the thing we do,
As the 'young guns' venture forward we'll be there to support you,
remember us and those before and battles fought and won,
Our history may be over lads, but yours has just begun.
We won't look back in anger, blaming others for our plight,
But WE know who is guilty, it's as clear as day and night,
Mismanaged funds by governments, the treasury purse bled dry,
Incompetents and downright fools, no wonder grown men cry.
We know that we are not alone and others suffer too,
And up and down our troubled land are folk like me and you,
So citizens, where were you, on that bright July day?
As old soldiers with their Colours high, they slowly marched away.
Chorus and fade
We can't look back in anger for that's not the thing we do,
As the 'young guns' venture forward we'll be there to support you,
remember us and those before and battles fought and won,
Our history may be over lads, but yours has just begun.
Copyright © July 4th 2011 Ronnie Hughes. All Rights Reserved
Ronnie