Post by Waverley on Aug 7, 2010 22:06:26 GMT 1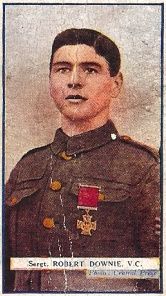 Robert Downie was born at Springburn on 12th January 1894. The son of Mr Francis Downie and Mrs Elizabeth Jane Downie. He was one of a family of sixteen and was educated at St.Aloysius School in Springburn and on leaving school went to work beside his father at the Hydepark Locomotive works. However, in January 1912 Downie joined the Army and enlisted in the 2nd Battalion Royal Dublin Fusiliers and was posted to France in August 1914 as part of the British Expeditionary Force. Five members of his family had served during the First World War and two of them were killed.
It was near the village of Lesoeufs in the Somme region of France on the night of on October 23rd §9§6 that Sergeant Downie was to gain his Victoria Cross. In the darkness the Dubliners had managed to capture several enemy gun-pits to the east of the village.However the Germans mounted several counter attacks in which the Dubliners were to lose many of their officers. It was at a critic point in the defence of the gun-pits that Downie decided to take a hand by rallying his men and attacking a German machine gun crew. It was reported that Sergeant Downie was "everywhere, directing , counselling, and cheering on the men who he had led so bravely forward!"
The citation for his Victoria Cross was published in the London Gazette on November 25th 1916 and reads :
" For most conspicious bravery and bravery and devotion to duty in attack. When most of the officers had become casualties, this Non-Commissioned Officer, utterly regardless of personal danger moved about under heavy fire and reorganised the attack, which had been temporarily checked. At the critical moment he rushed forward alone, shouting , "Come on, the Dubs." This stirring appeal met with immediate response, and the line rushed forward at his call.
Sergeant Downie accounted for several of the enemy, and in addition captured a machine gun, killing the team. Though wounded early in the fight , he remained with his company, and gave valuable assistance, while the position was being consolidated.
It was owing to Sergeant Downie's courage and iniative that this important position, which had resisted four or five previous attacks, was won."
Downie was presented with his Victoria Cross by the King at York Cottage, Sandringham, Norfolk on January 8th 1917. Several days prior to his medal presentation Robert was to be given a public reception at Springburn Town Hall. Later that evening he was presented with a gold watch from his former school along with a purse containing treasury notes at a special reception held by the United Irish League.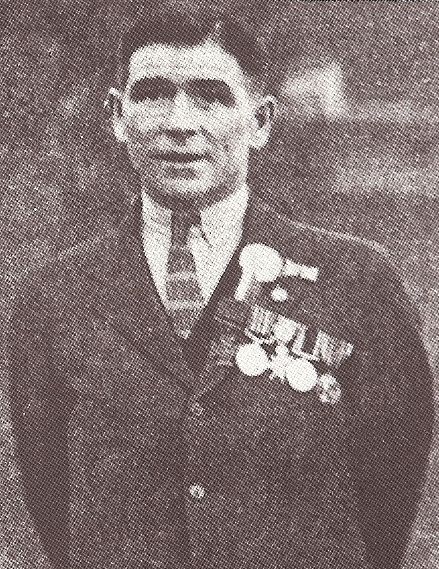 Robert Downie in the 1930's.

Downie was to be wounded five times and also gassed before leaving the Army in March 1919 and settling down with his wife Ivy whom he had married at Gravesend in April 1914, they had had three children, one of whom died in infancy. He then became an avid supporter of functions held for recipients of the Victoria Cross and George Cross. Apart from winning his VC Downie had also been awarded a Military Medal , the Russian Order of St.George and was mentioned in Despatches twice. He along with five other Victoria Cross winners acted as pall-bearers at the funeral of Lt.Henry May VC in July 1941 at Riddrie Cemetery.
For many years Downie worked as a turnstile operator at Celtic Park the home of his beloved Celtic Football Club.
Robert Downie died on the 18th of April 1968 at the age of 74 and is buried in St.Kentigern's Roman Catholic Cemetery in Glasgow.