Post by Waverley on Sept 3, 2013 0:09:45 GMT 1
TOP-NOTCHERS SINCE THE START
______________

Bridgeton Waverley's Big Deeds
______________

CLUB WITH ALL THE HONOURS
(By "JUNIOR VETERAN")
In my juvenile days we had some very fine sides, and at that time I fancied that nothing could ever be better than the crack teams of the period. Going round the town, we had a Waverley in the North-West, the Tweedhill further over at Possilpark, then in the Springburn direction the Benvue, the "Hunts" (Huntingdon), and the "Pals" (Palermo); way out East the Parkhead White Rose and Wellwood Star; next, at the Glasgow Green, the famous Fern Thistle; and on the South Side the Pollok Hawthorn, Govan Hibs, and many others.
Each had distinction of some sort, and, usually, on home territory were well-nigh invincible. We were fortunate in having the many "tournaments" run by other principal junior clubs. These were 11-a –side games, and many a happy night during the spring and early summer was spent taking part at Lochburn or some of the other city grounds.
When I think of how often we played and how long they sympathy extended to the present-day professionals when they are called upon to put in an extra turn seems undeserved. I recall playing at two fields, far distant from each other, on one night, the second game commencing nearer to ten o'clock than nine. However, that's outside the story.
In 1904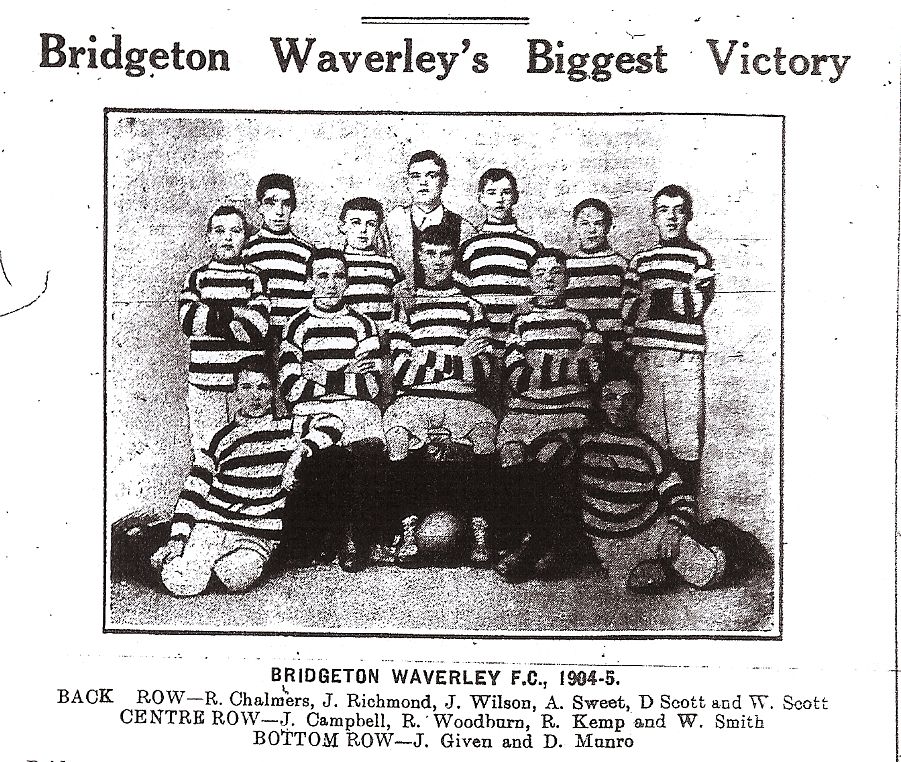 In the years 1904 was formed the Bridgeton Waverley Football Club, destined to become more famous than any of those previously mentioned, inasmuch as they had success while juveniles and followed on to make almost instantaneous mark as juniors. Seldom has a club so definitely established itself as the Lea have done. They are reckoned A power in the football land nowadays. Are resume of their memorable juvenile career maybe interesting.
The boys who founded the club were nearly all pupils of Queen Mary Street Public School. The usual procedure for obtaining funds was adopted, and no door to door canvas was more assiduous-not bettered even by census or political people. Armature rules were rigidly enforced, and no weekly subscription meant no place in the team.
Later some of the older boys who frequented "Stewarts Corner" assumed control of affairs and a few of the founders were given the order of the back seat. A new rig out was secured, the lads duly photographed in weirs and then onto take part in their first competition, which had the highly commendable title of the "Clean Speech League", inaugurated by a well known Glasgow gentleman, Charles Anderson, Esq. They finished in what was termed a "respectable position" – presumably very few blots on their copy-book.

Disbanded and Back Again
Season 1908-9 marked their advent in first-class juvenile football. Various competitions were entered. Part was taken in the "tourneys" I have referred to, and in the Vale of Clyde's 1908-10 one they got third prize. They struggled on without capturing anything of moment, though in 1911-12 when entertaining big hopes, they were beaten in the sixth round of the Scottish Juvenile Cup by Dalmuir Royal Oak 1 – 0. When the Great War started the club disbanded.
The boys who came back in 1919 decided to get the Lea going again, and one of their greatest joys was when they mustered a side sufficiently good to beat their closes local rivals, the hitherto all – conquering Eastern Green Field, who rejoice in the quaint designation of the "Light Ale!".
In 1919 Waverley won the Glasgow Juvenile Cup and also the "B" Division of the Glasgow and District Juvenile League. A grievance exists over the latter as the badges never appeared – the money intended of them vanished.
Mention of badges reminds me of the tale of a Waverley player very fond of sporting his "ornaments" on a black cord across his waistcoat. This was a good old "Spanish custom" but it irritated one of his team mates to ridicule the business the latter turned up one day wearing a place boot lace then when asked by the "Badger" fellow what this was for curtly replied , "To lace ma Sunday bits, ya gowk".
Badges Galore
However, it was not long before the club began to gather badges galore. In season 1921 they won the Glasgow North-Eastern Juvenile Cup and also Parkhead and District Juvenile Cup with a team considered to be the best they had for a decade. Next year they went one better, winning the Scottish, Glasgow, and North-Eastern Cups.
The following year they captured the same three. Plus, the Glasgow Charity and East End Juvenile Cups – a total of 5 for the season. They continued in 1923-24 their merry career by lifting the Scottish, Glasgow, Glasgow Charity and "John Chatham" Cups, also the City and District amateur League. The Scottish Juvenile Cup three years in succession was a memorable feat.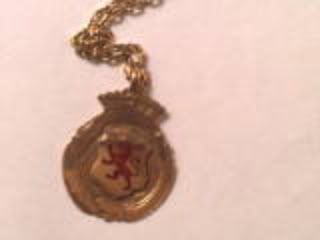 Scottish Juvenile Cup Medals won by Billy Glasgow when he played with Bridgeton Waverley back in the early 1920's.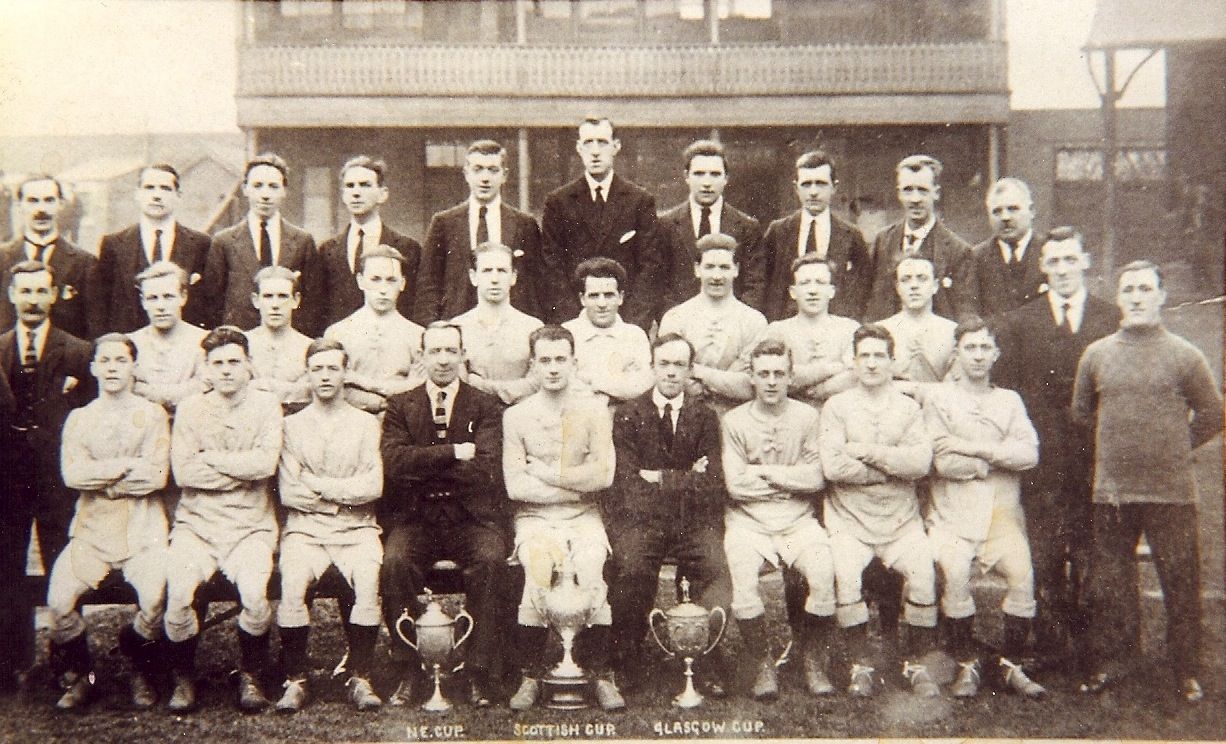 Then they went upstairs to the exaulted ranks of the Juniors – under senior auspices, in a sense, as it was representation made by Frank Thompson, the Clyde Manager, to his board to grant the use of Shawfield Park, which decided the Club to take the plung. The officials at the time were; president, A. Moffat; vice-president, W Robertson; Treasurer, K. Johnstone; General Secretary, A. McKay; and Match Secretary, the well known Danny Scott, who's name is so closely associated with the fortunes of the club.
In Nine Years
They began the "Silver Collection" at once, and undernoted is a list of their big deeds in comparatively short Junior life of theirs, a matter of nine year:-
1924-25 – Scottish Junior Victory Cup, Scottish Junior League Victory Cup and Glasgow Junior Consolation Cup.
1925-26 – Runners-up Scottish Junior Cup (to Strathclyde), winners North-Eastern Cup, Smyllum Cup, and Dawson Walker Gold Medal Competition.
1927-28 – Runners-up "Bobby Walker Testimonial Cup"(to Ashfield).
1928-29 – Smyllum Cup.
1929-30 – Smyllum Cup, Scottish Intermediate League (Eastern Section), runners-up Glasgow Consolation Cup (to Yoker Athletic), runners-up "Evening Times" Trophy (to Clydebank).
1930-31 – "Evening Times" Trophy (beating Yoker Athletic), Scottish Intermediate League (Eastern Section), East End Charity Cup, runners-up Scottish Intermediate Cup (to Yoker Athletic).
1931-32 – Runners-up Glasgow Junior Cup (to Shawfield), runners-up Smyllum Cup (to St Rochs).
Their Big Day

Of course, their big day was on May 22, 1926. They met their near and dear neighbours, Strathclyde, at Firhill in the final of the Scottish Junior Cup, when they lined up with this strong side: Moyles; Steel and T. Creighton; M'Harg, Milne and Bolton; M'Gowan and Robertson; Main; W. Creighton and Young.
Having a 'busman's holiday I enjoyed this game to the full, and recollect how, soon after, Rangers signed on Moyles, when most folk thought they were after Stevenson, the Strathclyde goalkeeper nowadays with Clyde.
Bridgeton Waverley sent a lot of players to the senior, and the following are eleven of the best:-
Willie Moyles (Rangers), Willie Steel (St Johnstone and Liverpool), Tom Law (Chelsea), T. Gibson (Aberdeen), W. Culbert (Clyde), J.Bolton (St Johnstone), Tom Workman (St Mirren), George Mills (West Ham), Hugh Mills (West Ham), Willie Mills (Aberdeen), Willie Gall (Clyde and Falkirk).
They gave a Wembley Wizard to in the form of Tommy Law who had only played five games for them before signing for Chelsea going on to play in that famous Scots victory at Wembley when the Scots crushed England five goals to one in 1928.
www.youtube.com/watch?v=kTRbQMLiJLY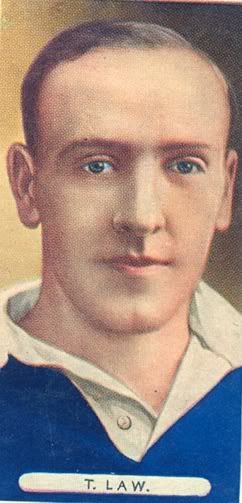 Other prominent promotions were:-
D. Main (Airdrieonians), J. McFarlane (St Johnstone), A. Adams (Clyde), H. Bolton (Clyde), J. Ralston (Clyde), K. M'Cleish (Clyde), T. Whitney (Celtic), W. Creighton (Albion Rovers), J. Stewart (Albion Rovers), W. Meek (Airdrieonians), C. Kerr (Hearts), J. Robertson (Aberdeen), T. Creighton (Bo'ness), J. McPherson (St Johnstone), G. Hawthorn (Third Lanark).
Some Teams
Some of their elevens from year to year may be worth noting. In 1925 they had one such, playing against Gartsherrie Athletic:- Moyles; Smith and T. Creighton; Hislop; Boreland, and Bolton; O'Neil and W. Creighton; Young; Dickie and Breslin.
The 1926 side, has been given and now here is on for 1927, meeting St Anthony's in a North Eastern tie:- Caleagh; Hill and Lundie; M'Harg, M'Cleish, and Culbert; M'Kennan and M'Donald; Kelly; Leighton and Miller.
In 1928 they fielded in an early game against the Vale of Clyde:- Frame; Lewis and Culbert; M'Murry, Waddell and Leighton; Sykes and Gibson; M'Kennan; Ashbridge and M'Lear.
The year 1929 found them playing Shettleston Celtic with:- Frame; Lewis and Dunsmore; Gibson, Green and J. Downie; Sykes and Busby; M'Kennan; M'Laughlan and W. Downie.
During 1930 this was a side which met with Clydebank:- Skewis; Lewis and Smith; Gibson, Waddell and Lindsay; Sykes and Workman; Jamieson; Gilroy and Whitney.
Here's a 1931 side, playing Blantyre Victoria:- Lindsay; Turner and Murphy; Logan, Waddell and Cameron; Love and Gibson; H. Mills and Sloan.
What they have now and how they are faring can readily be ascertained.
One of the Best
I am told that one of the best sides ever representing the club was in their juvenile days, reading:- Sellar; Glasgow and G. Borland; Gardner, Knox and Kay; Munro and K. Borland; Greig; Clark and M'Donald.
In 1926 the club formed a Parks Committee, leased their present ground Barrowfield Park, and by dint of sheer hard graft of the enthusiastic volunteers laboured until they formed what they claim to be one of the best laid-out grounds in junior football with modern pavilion and press accommodation and terracing, which I know from experience to be properly graded. The ladies helped with a grand bazaar.
The present officials carry on the good work:- President, A. M'Kay; vice president, R. Reid; treasurer, A. Marshall; financial secretary; A. Watson; general secretary, W. Dempster; match secretary, K. Johnston, assisted by an enthusiastic committee – Messrs. J. M'Pherson, J. Little, W. Moyles, J. Haddow, J. Edgar, J. Francis, W. M'Pherson, J. Watson, J. Hamilton, C. Wilson, R. Gordon, R. Glen, W. Burns, D. M'Guire, J. Casey, J. Dickson, J. Tonner, R. Kennedy, W. M'Crorie and D. Kirshall.
Founders
Two of the founders of the club are still actively engaged - Messrs. A. Moffat and K. Johnston. I am indebted to Mr Johnston for his aid in compiling this article.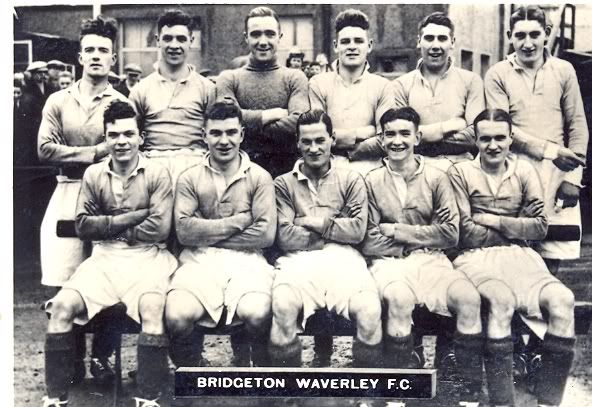 And I have made another discovery – they have the whimsical Willie Curlie as groundsman. In his "dug-out" the other evening I fancied I was among the ammunition-boxes again, listening to one of the old "irrepressibles". Possessing a pretty wit, he gave me the best laugh I have had outside of the Royal or Princess's, and I'm not sure yet "phut" it was all about. I will have to keep it for a separate article!

BRIDGETON WAVERLEY
Location Bridgeton
County Glasgow
First year of reference to 1923
Disbanded 1962
Colours
Grounds
Barrowfield Park
New Barrowfield Park
Carntyne Racetrack
Leagues competed in
1924-1925 Scottish Junior League
1927-1931 Scottish Intermediate League
1931-1962 Central Junior League
Honours
Scottish Intermediate League 1931
Glasgow Junior North Eastern Cup 1926
Glasgow Intermediate North Eastern Cup 1929
Glasgow Eastern Charity Cup 1931, 1936, 1943, 1948
Glasgow Junior Consolation Cup 1925
Scottish Junior League Victory Cup 1925
Smyllum Charity Cup 1929, 1930
West of Scotland Cup 1936
Notes
Played at Juvenile in 1923-24, before turning Junior