Post by Waverley on Jul 7, 2007 9:31:55 GMT 1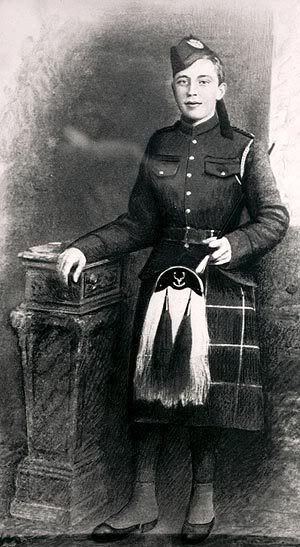 James Clelland Richardson on was born at Bellshill on November 25th 1895. He was the son of policeman David Richardson and Margaret Prosser Richardson and went to school at Bellshill Academy , Auchenwraith Public School , Blantyre and John Street Public School.His family emigrated to Canada before the outbreak of the Great War where his father was to become the Chief of Police in British Columbia.
On the 8th/9th of October whilst taking part in a Canadian night attack on the German trenches he was ordered to play his pipes as the advancing Canadian troops came under fire from the Germans. He walked along the lines of advancing and wounded Canadian soldiers for fully ten minutes to inspire the attack on the German Regina Trench.
Helping with the bombing attack he laid aside his pipes to take a wounded colleague back to his own lines and on doing so he realised he had left his pipes out in 'No Man's Land' and insisted on going back to collect them he was never seen alive again. He is buried in Adanac Cemetery - Canada spelt backwards - on the Somme.
His pipes were recovered from the battlefield by a Scotsman who took them back to display them at a school in Crieff where they lay for almost 75 years covered in mud and their story was unknown until a local woman began to clean them and discovered an unusual tartan which she did not recognise. Asking on the Internet what tartan covered the bagpipes she was informed it was peculiar to Canadian Forces. This created an interest amongst Canadian Military experts who on making further enquiries into the history of the bagpipes were amazed to find that the bagpipes were in fact Richardson's pipes which he had lost his life searching for all those years ago at Regina Trench. The pipes were returned to Canada and are now in a Museum dedicated to Richardson.