Post by Waverley on Aug 13, 2008 7:50:15 GMT 1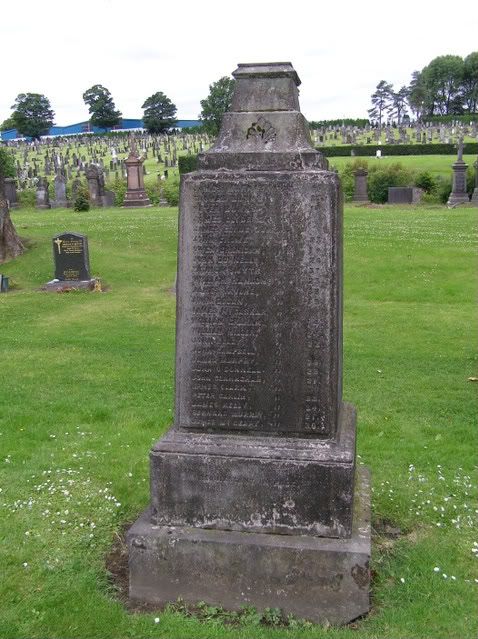 The memorial stone in Dalbeth Cemetery to those Roman Catholics who were killed in the Blanytre Pit Disaster.
Blantyre mining disaster 22nd October 1877
The Blantyre mining disaster happened on the morning of 22nd of October, 1877 at Blantyre Colliery, William Dixons pits numbers one and two, in High Blantyre. Both pits blasted at 8:50 am. 126 men had gone down number two pit, and 107 down number three at 5:30 am. There was thought to have been 233 people down the pits, but there could have been more. The explosion was as unexpected in pit number two as it was three, but it was known that there was fire damp (gas) present in the pit and it must have been ignited by a naked light. This was Scotland's worst ever mining disaster..
On the surface, the blast was heard for miles around, with a dense volume of smoke filling the sky. Soon after lots of people began running from the rows near the pits shouting. There was another explosion, this time on Dixons number one pit, Blantyre, on the 2nd of July 1879, with the loss of 28 lives. Soon after the explosions William Dixon Ltd. erected a large granite monument to mark both disaster which reads "William Dixon Ltd. in memory of 240 of their workmen who were killed by explosions in Blantyre Colliery on 22nd October, 1877 and 2nd July 1879 and many of whom are buried here". . The accident left 92 widows and 250 fatherless children.
The Blantyre Explosion
(Clyde's Bonnie Banks) Traditional song
By Clyde's bonnie banks as I sadly did wander
Among the pitheaps as evening drew nigh
I spied a wee lassie all dressed in deep mourning
A-weeping and wailing wi' mony's sigh
I stepped up beside her and thus did address her
Come tell me, young lass, o' your sorrow and pain
A-sobbing and sighing, at last she did answer
Johnny Murphy, kind sir, was my ain true love's name
Twenty-one years of age, full o' youth and good-looking
To work doon the mines at High Blantyre he came
The wedding was fixed, all the guests were invited
That calm summer's evening young Johnny was slain
The explosion was heard, all the women and children
Wi' pale anxious faces they haste tae the mine
When the news was made heard the hills rang with their mourning
Twa hundred and seven young miners were slain
Noo husbands and wives and sweethearts and brothers
That Blantyre explosion they'll never forget
And all ye young miners that hear my sad story
Shed a tear for the victims that's laid tae their rest